Tikka Masala Curry Sauce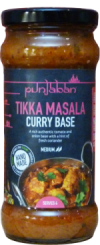 Flavour of the month! A rich authentic tomato and onion base with a hint of fresh coriander.
Free from all of these: Sugar, What, Dairy, Ghee, Gluten, Yeast, Artificial Colourings, Coconut, Nuts, Preservatives, Additives.
+ / -
Nutritional Information - per 100g
#BestHomemadeCurry
Hashtag your pictures and we will upload the best ones here.
Send me recipes and product updates
Send me recipes and product updates