Christmas Gift Pack Mini Mild Spice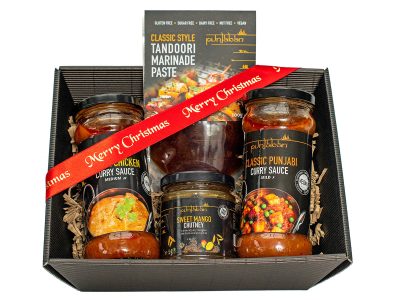 A selection of your favourite Mild (ish) Punjaban products!
Indulge in these delicious products made by Charlie, packed full of flavour without the heat! Definitely one, that's good for the kids 😀
Why not create your perfect meal at home for the family, Just add Chicken, Meat or your vegetables! 
Charlie has done the hard work for you! 😉
Whats Included for you…
1 x Butter Chicken Curry Sauce
1 x Mild Authentic Curry Sauce
1 x Sweet Mango Chutney
1 x Classic Tandoori Marinade
Free from all of these: Wheat, Dairy, Gluten, Yeast, Coconut, Nuts and Colourings
+ / -
Nutritional Information - per 100g
Ingredients
*Please check each Product on the website*
How to use
Please click here for the recipe!
#BestHomemadeCurry
Hashtag your pictures and we will upload the best ones here.
Send me recipes and product updates
Send me recipes and product updates