Christmas Gift Pack Medium Spice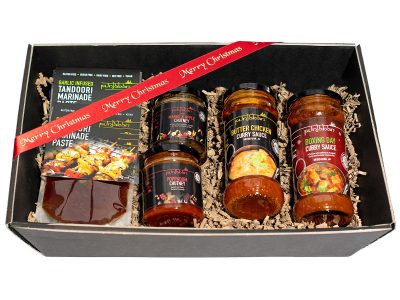 A selection of your favourite Medium Punjaban products!
Indulge in these delicious products made by Charlie, packed full of flavour with just the right amount of heat!
Why not create your perfect meal at home for the family, Just add Chicken, Meat or your vegetables! 
Charlie has done the hard work for you! 😉
Whats Included for you…
1 x Boxing Day Curry Sauce
1 x Butter Chicken Curry Base
1 x Apple & Mango Chutney
1 x Poppadom Chutney
1 x Classic Tandoori Marinade
1 x Garlic Tandoori Marinade
Free from all of these: Wheat, Dairy, Gluten, Yeast, Coconut, Nuts and Colourings
+ / -
Nutritional Information - per 100g
Ingredients
*Please check each Product on the website*
How to use
Please click here for the recipe!
#BestHomemadeCurry
Hashtag your pictures and we will upload the best ones here.
Send me recipes and product updates
Send me recipes and product updates