Tadka Dhal Kit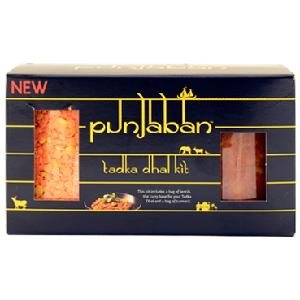 Love lentils? Try Punjaban's finest lentil kit!
Tadka Dhal is one of the most tastiest and authentic dishes to grace the Punjabi families dinner table. Within this box you will find the finest quality of red split lentils and a perfect base to turn these high nutritional pulses into a perfect vegetarian curry. Why not throw in some chicken to make a delicious Dhansak!
Free from all of these: Sugar, Wheat, Dairy, Ghee, Gluten, Yeast, Artificial Colourings, Coconut, Nuts, Preservatives, Additives.
Out of stock
+ / -
Nutritional Information - per 100g
Ingredients
Tadka Dhal Base:
Rapeseed Oil
Fresh garlic
Fresh onions
Tomatoes
Spices
Lemon juice
Fresh green chillies
Salt
Cumin Seeds
Lentil Bag: Red split lentils and Chana Dhal
How to use
Step 1: Wash the bag of lentils in warm water and drain. 
Step 2: Place the red split lentils and chana dhal along with 1500ml cold water in a large saucepan. Add the bag of turmeric and bring to the boil. Simmer until lentils are cooked (approximately for 20 minutes)
Step 3: Add the Punjaban Tadka Dhal Curry Base to the lentils and simmer for approximately 10 minutes. 
Step 4: Garnish with freshly chopped coriander and serve with Punjaban rice or Punjaban chapattis.
Out of stock
#BestHomemadeCurry
Hashtag your pictures and we will upload the best ones here.
Send me recipes and product updates
Send me recipes and product updates